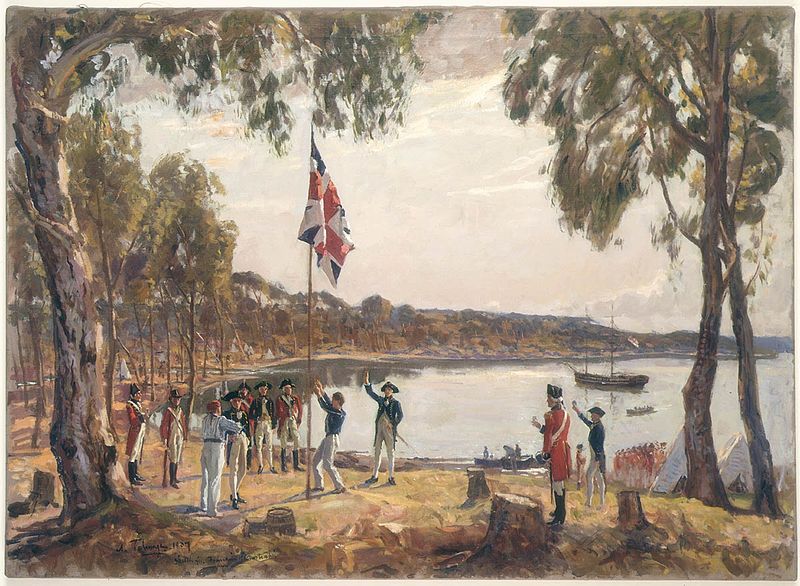 Australia Day History May Surprise You…  
After 12 years as a UK immigrant in Australia, I admit to being completely ignorant when it comes to First Nations history.
Today this changes, as I commit to educating myself, starting with Australia Day and exploring why the date matters and ask: do you need to join me on this journey?
The Origin of Australia Day
On 26 January 1788 Captain Arthur Phillip arrived in Sydney from Great Britain with 11 ships (known as the First Fleet) filled with convicts and the intention to settle in and colonise Australia.
This historical day is sometimes also referred to as First Landing Day or Foundation Day and from 1804, was used by descendants of these first settlers as a celebration.
It remained a customary celebration, also representing over time, the Federation of the Commonwealth, the Australian Constitution and the right for settlers to be classified as Australian (rather than British).
Only in 1994 did January 26 officially became a national public holiday and now continues to be used by many as a day of patriotic celebration of identity.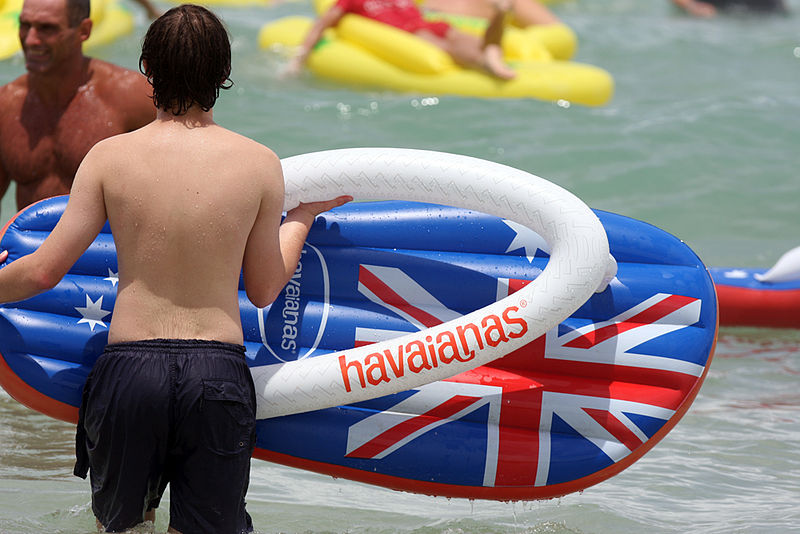 Australia Day 2012 At Bondi Beach, Sydney
Why Some Want to Change the Date?
Before British occupation, Australia was already inhabited by an indigenous and ancient population, who identify as Aboriginal and Torres Strait Islander people (ATSI), or Australia's First Nations.
Some feel January 26 is a painful reminder of the violent treatment of these people, for whom January 26 signifies the Invasion Day of their land and a Day of Mourning. It is a reminder of what became a "war of extermination against them".
The battle is ongoing for ATSI people to be recognised and treated equally in modern Australia.
"When it comes to the subject of 26 January, the overwhelming sentiment among First Nations people is an uneasy blend of melancholy approaching outright grief, of profound despair, of opposition and antipathy, and always of staunch defiance."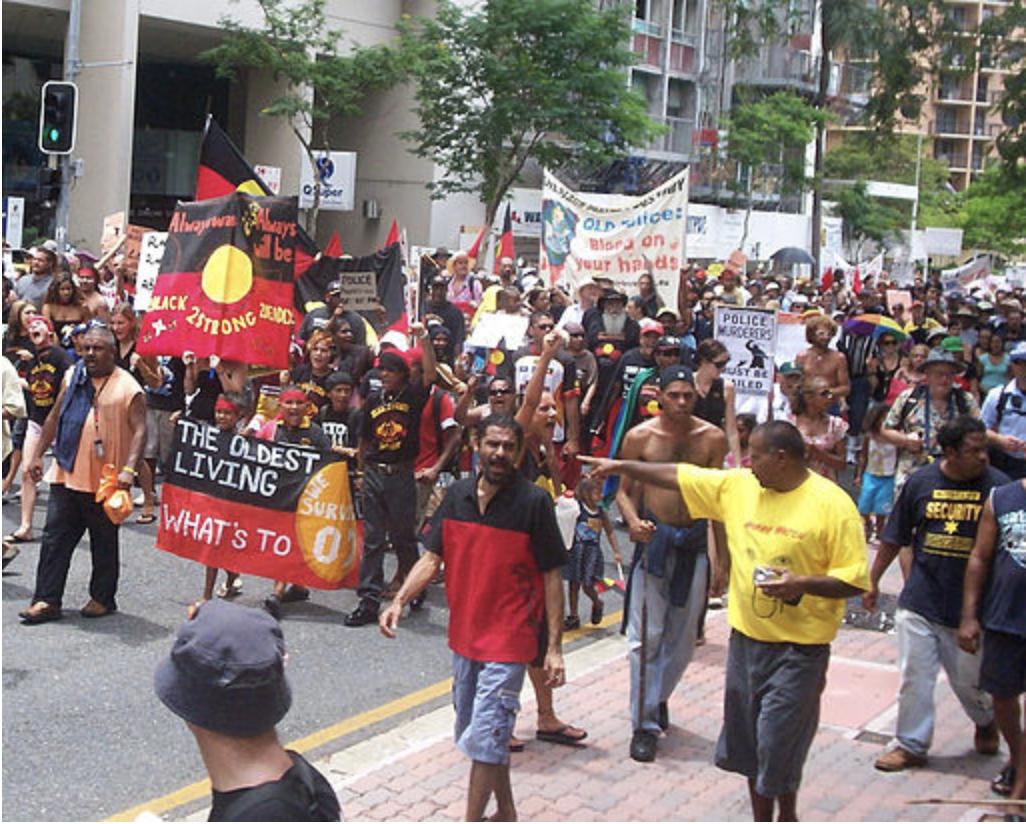 Invasion Day rally and march at Let's Take Over, 2007
Photograph by David Jackmanson
We can't deny, the date holds conflicting meanings, and it's difficult to see how a fair consensus can be reached.
Here are some things we can all do:
Remember that our identity matters
Realise that if we attack somebody's identity they will get defensive, so
Ask others what Australia Day means to them and
Listen and acknowledge other points of view, even if it differs from your own
Hearing each other out in this way is a simple but powerful gesture, that will go a long way towards a deeper understanding and connection. Read More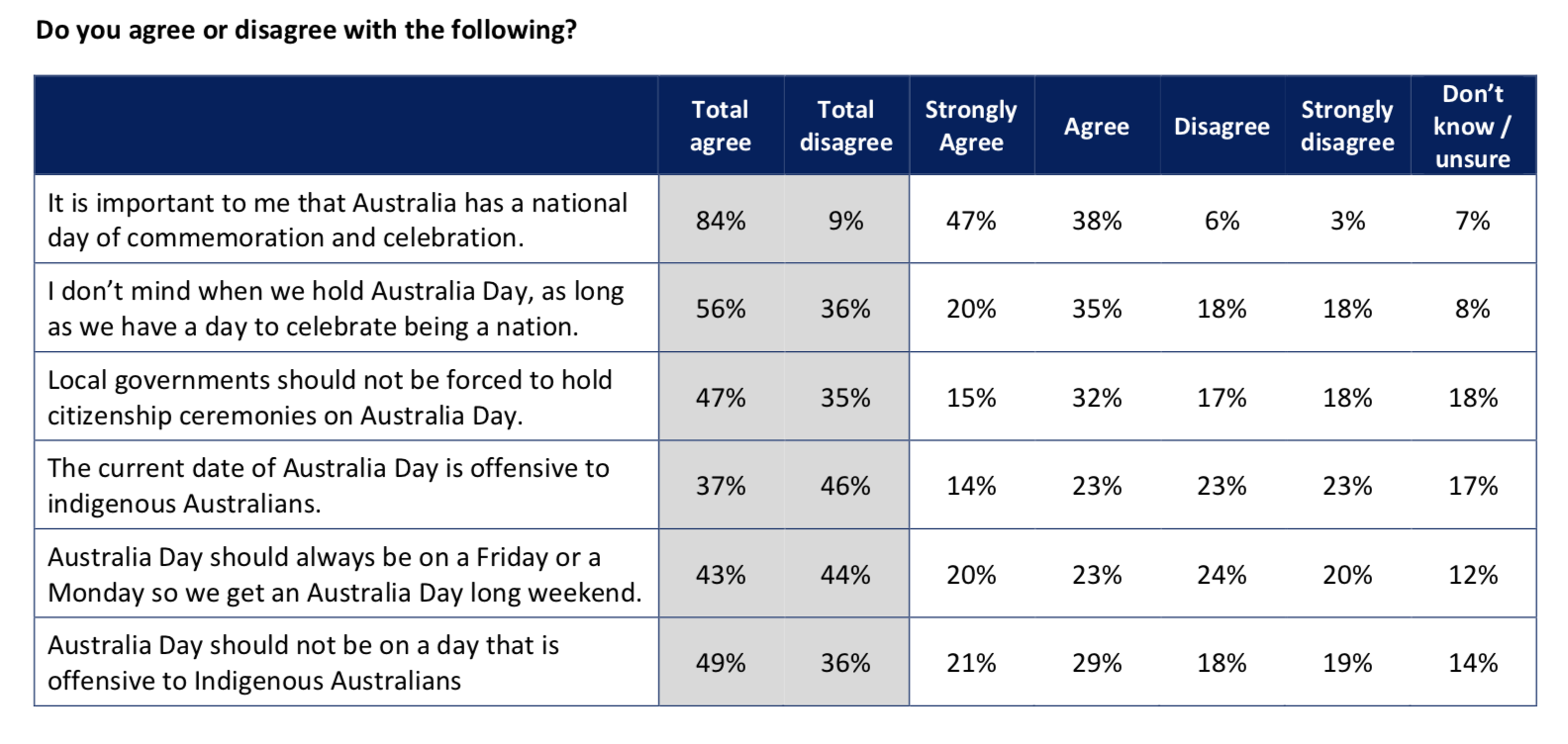 (Poll Results, Supplied: The Australia Institute).
Recent Survey Results
Media coverage may be politically influenced and not a real representation of general opinion.  The Australian Institute, claims "Australians are laid back about Australia Day."
"When asked to choose which date Australia Day should be celebrated on, less than a quarter chose the current date."
Ebony Bennett, The Australia Institute
Conclusion
For me it's time to rethink, as continuing to use January 26 for a date of celebration seems inappropriate and disrespectful and may be damaging the country's relationships and reputation.
As we work towards Reconciliation, I feel changing the date would be a bold and positive progression towards equality and inclusion of all Australians.
Aboriginal journalist Stan Grant puts it best:
"We're better than this!"
How do you feel about the date of Australia Day?